Despite the massive onslaught of mobile phones and smartphones in recent times, portable radios have managed to hold firm ground as they specifically cater to special communication needs across industries where clear and precise interaction is paramount. Motorola is considered a pioneer and a household name in the radio communications industry. The Motorola DP4800 portable radio proves yet again that the company is committed towards delivering world class communication products that make use of the latest in technology.
The inclusion of GPS, Bluetooth audio and data and full-fledged text messaging capability makes the DP4800 an extremely powerful and well-rounded communication device. Moreover, it provides quick call-capability to individuals as well as to groups. The built-in full color LCD display has day/night modes that facilitate easy reading of messages. Plus, the DP4800 is no slouch in the audio front as well. Its Intelligent Audio feature along with customizable audio announcement capability guarantees enhanced audio performance every single time you communicate with it.
The Motorola DP4800 supports both VHF and UHF frequency bands and has a 5-line keypad with clearly visible and well-aligned alphanumeric buttons. This 5-tone device has a capacity of 1000 channels and comes with five quick programmable buttons, an additional emergency button on the top, IP57 certification for waterproofing, a tri-color LED that gives feedback on the radio operating status, and a FM intrinsically safe option. Apart from these major features, there is a whole host of other notable highlights which makes the DP4800 an appealing choice for consumers. Some of these include VOX capability, option board capability, privacy features, analogue mode compatibility, and digital phone patch compatibility.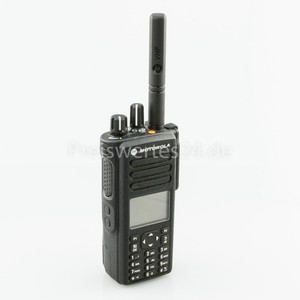 Like all other modern day portable radios manufactured by Motorola, the Motorola DP4800 takes complete advantage of the customized applications that have been built for it. Some of the applications include the likes of email gateways, location tracking, remote monitoring, management of work order tickets and man down emergencies. The DP4800 works flawlessly with Motorola's MOTOTRBO system which maximizes the radio's capacity using a technology called 'Capacity Plus' and thereby permitting high volumes of voice and data to be transmitted up to a thousand users without the need to add any new frequency bands. On the other hand, the 'Linked Capacity Plus' technology of DP4800 allows users to use the MOTOTRBO system for covering a wide area in order to link teams working across multiple sites.
Users can benefit from secure communication channels when using the DP4800 as it comes loaded with built-in scrambling. The DP4800's Transmit Interrupt functionality provides users with an option to interrupt an ongoing communication in order to relay important or highly critical messages. Its mechanism for Emergency Calling ensures safety of employees. Communication is further improved with the help of PTT ID. The calls are received every time with the help of its channel scanning schemes. In terms of design, the DP4800 ticks all the relevant boxes as it exudes compactness, looks toughened to handle harsh conditions and is also water and dust proof. After going through the features and capabilities of Motorola's DP4800 portable radio, it is fairly easy to conclude that the product has been built to last and deliver a unified and seamless communication experience which is hard to match by its rivals.